Example of our Sewage Container:
12 metres and 6 metres in series
With a HDPE chlorine disinfection tank
This was installed in a caravan park to handle 40 Kl/day with a BOD of 350 MG/L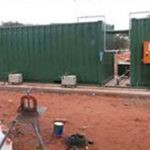 We now offer:
A plug and play container plant with internal fibreglass lining, complete with sludge and anoxic recycles for optimum efficiency.
Capacity per container is 30kl/day or 200 people.
This plug and play unit only requires connection of inlet and outlet piping as well as electrical power.
All other aspects of the plant are fully included in the plant and are tested prior to despatch.
Water & Sanitation Panel Discussions
Package, Modular & Containerised treatment panel questions for Famsystem Technologies
Want to know more?
For more information on containerised sewage plants, click the link below